NANO 3000 UNIVERSAL KIT
Designed for using your current nitrous bottle valve. (Up to 250hp)
(Check with NANO for your nitrous valve compatibility.)
Kit Includes:
• NANO nitrous Pressure Compensator assembly with 3000psi NANO bottle.
• 18″ Braided Interface line
• Nitrous Universal Check Valve, anit-reversion w/1/8″npt port adaptor
• Free NANO Nitrous bottle sticker.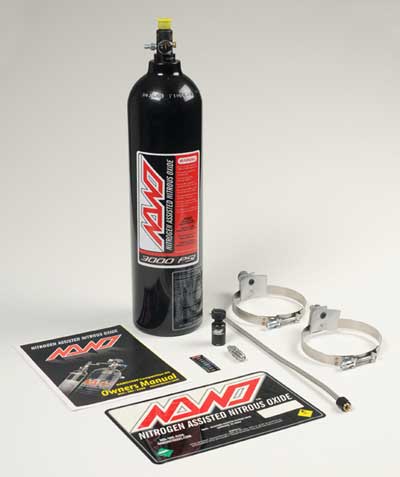 NANO Nitrous Regulator System
Fits all 10 # & 15# Nitrous Kits
Supported nitrous horsepower (35-250 hp)
Nitrous bottle valve provided by buyer!
Note: HP supported will vary by nitrous bottle valve used.
Price: $434.55